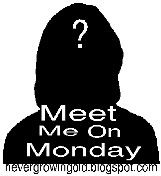 Every Sunday Java will post five get to know you questions that you can copy and paste into your own Monday post so that we can all get to know one another better.
This week's questions from Java over at Never Growing Old are:
1. Do you watch any Soap Operas?
No. Not any more. I use to when I was a SAHM and would get way too involved in their daily life. Now... reality TV is a different story. I am a reality-tv junkie!
2. What appliance is used the most in your house?
The microwave and probably more so since it has been extremely hot and humid here.
3. Do you wear make-up every day?
Yes, thanks to my ex-husband. He use to tell me how sick I looked if I didn't. At a minimum I wear mascara but the majority of days I do the whole deal.
4. What is your worst pet-peeve?
Mine? Nail biting. (I am sure others would say differently.)
About others? When at work dialing the phone without picking up the handset
AND being late.
5. What is your favorite lunch meat?
Smoked turkey.