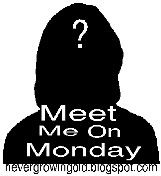 QUESTIONS... ANSWERS...
1. What is your favorite dessert?
It's a toss up between Key Lime Pie and Red Velvet Cake
2. What do you wear to bed?
Definitely, nothing sexy…. A t-shirt…. T-shirt nightgown… always something 10x too big on me, but comfy. Now, that's the summer. In the winter, I wear long pj pants, long-sleeve t-shirt, robe/hooded sweatshirt.
3. Do you get regular manicures/pedicures?
In the summer I get occasional pedicures and regular fills.
4. Did you play any sports in high school?
None, I don't think when I was in HS we had sports for girls.
5. Do you have an iPod?
No, and not sure that I care to have one either.